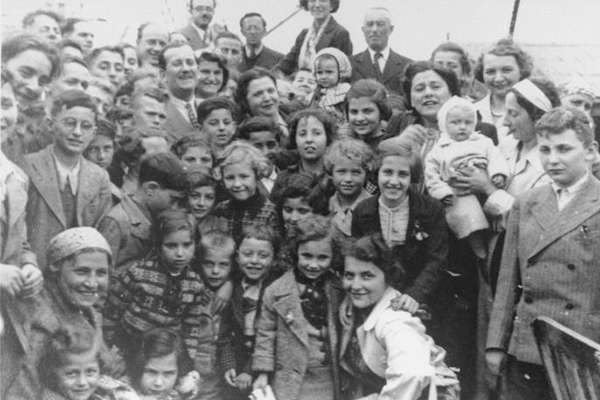 I was interviewed by Glenn Garvin of the Miami Herald who wrote an article about a previous time the US refused to let refugees in:
1939 'Voyage of the Damned' raises questions about treatment of Syrian refugees (Miami Herald)
It would become known, with heartbreak and infamy, as the Voyage of the Damned. Seventy-six years ago, an ocean liner carrying more than 900 Jewish refugees fleeing Adolf Hitler's Germany hovered aimlessly for 72 hours just a couple of miles off the Florida coast while Jewish leaders in Washington frantically begged President Franklin D. Roosevelt to let the passengers into the United States. "So near, and yet so far," one passenger murmured to her husband as they watched traffic darting about Miami Beach.
Farther than she even guessed. Roosevelt said no, and the SS St. Louis sailed back to Europe, where World War II was just weeks away. Many of the passengers would fall back into the hands of the Nazis they were trying to escape. About 250 of them did not survive the war.
The decision to turn away the St. Louis was a grotesquely ugly moment in American history, one for which Congress and the U.S. State Department would eventually apologize. Now the governors of 26 states are urging President Barack Obama to turn away another group of refugees, 10,000 people fleeing the civil war in Syria. So: Is this another St. Louis moment? . . .
And my part:
. . . . Eizenstat, who has closely studied the U.S. government's handling of the St. Louis, understands the concern about terrorists posing as refugees. He nonetheless thinks the problem can be overcome, citing two much bigger influxes of refugees from hostile regions: the hundreds of thousands of Vietnamese who came to the United States after the communist victory in South Vietnam in 1975, and the more than 100,000 Cubans who came during the 1980 Mariel boatlift.
"In both those cases, we set up screening centers and we weeded out the people who might have been spies or government agents," he said. "In the case of the Vietnamese, in particular, the North Vietnamese and Viet Cong were serious, hard-core — well, we didn't use the word terrorists, but that's what they were. But we kept them out. We can do that with the Syrians, too. I have confidence in the FBI and CIA and Homeland Security."
"We worried about it, because we were paid to worry about it," says Raymond Batvinis, a former FBI agent who participated in the Mariel screening, who now teaches at George Washington University and has written two books on the bureau's counterintelligence operations. "There were some people about whom we for sure had suspicions. But in the end, at least to my knowledge, we never found anyone who was a Castro spy."
However, Batvinis thinks that worries about spies or terrorists disguised as refugees are quite sensible. And if there weren't any spies among the St. Louis passengers, he adds, it probably wasn't for lack of the Nazis trying. "They certainly used refugees to spy in the United States," he says. At least four German refugees — two of them Jewish — surrendered to the FBI as soon as they arrived, confessing that they had been coerced into working for the Nazis. A fifth, who didn't turn himself in, was caught, convicted and sent to prison.
The possibility of terrorist sleeper agents is not the only difference St. Louis survivors see between themselves and the Syrians. While Germany was changing rapidly under Hitler, they say, refugees fleeing the country were fundamentally products of western democracy. The Syrians are not, and they don't want to play by the rules of western liberalism, but change them. . . .(read the whole article)