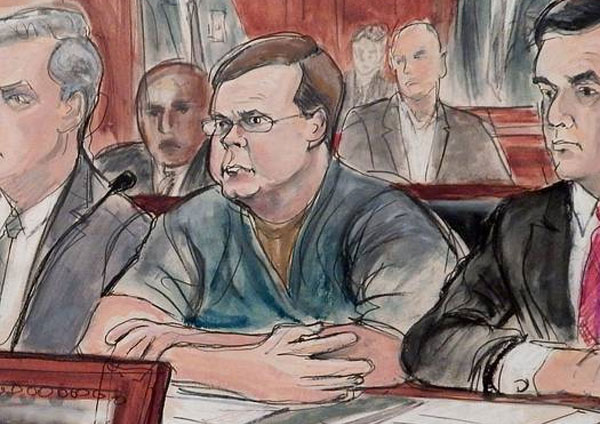 This is a good article in Bloomberg about the Russian Illegal Evgeny Buryakov case that illustrates how Russian espionage and recruiting in the US and how the FBI tracked and ran the case.
Russia had operatives in New York for years, from Wall Street to the UN. Now one is headed to prison.
Evgeny Buryakov woke up to a snowstorm. On the morning of Jan. 26, 2015, his modest brick home in the Bronx was getting the first inches of what would be almost a foot of powder, and Buryakov, the No. 2 executive at the New York branch of a Russian bank, decided to skip work and head around the corner to a grocery store to buy supplies for his family of four. As the 39-year-old Russian bundled into his winter gear and closed the front door of his house behind him, he didn't realize he would never set foot in it again.
Since the Buryakovs' arrival in New York in August 2010, they had seemed like any other immigrant family in the melting-pot Bronx neighborhood of Riverdale. Of average height and build, Evgeny's only curious feature might have been his near-obsessive taste for McDonald's. The kids in nice weather played in the sandbox out back, next to the clothesline where their mother, Marina, liked to hang their laundry. While Evgeny commuted to the 29th floor of a Manhattan high rise, she shuttled the children to a nearby parochial school and to afternoon activities like karate. The two nuns who lived next door watched the family parrot while the Buryakovs went on ski vacations.
But Evgeny was leading a double life. His real employer wasn't a bank, but Russia's SVR intelligence agency. For a decade, Buryakov had been working under "nonofficial cover"—a NOC, in spy talk—and, now on Wall Street, his task was to extract corporate and financial secrets and report them back to Moscow. His two handlers, also undercover, were attempting to recruit unwitting sources at consulting firms and other businesses into long-term relationships.
Berlin was once the espionage capital of the world—the place where East met West, and where undercover operatives from the KGB, CIA, MI6, and untold other agencies practiced spycraft in the shadow of the Berlin Wall. Since the end of the Cold War, however, New York has probably hosted more intelligence activity than any other city. The various permanent missions and visiting delegations at the United Nations, where even countries that are otherwise banned from the U.S. are allowed staff, have provided cover for dozens of agencies to operate. Wall Street has offered further pretexts for mining information, with its swirl of cocktail parties, networking events, and investor conferences. . . .
. . . . Maria Ricci has spent her FBI career chasing Russian spies up and down the East Coast. After majoring in English at Columbia and working as a lawyer in private practice, she joined the bureau 15 years ago, assigned to the counterintelligence squad. Her first job was known internally as Operation Ghost Stories—Ricci and other agents worked for almost a decade to track a ring of Russian illegals hidden across the country in what became the FBI's largest espionage case ever. Their investigation ended in 2010 with the arrest of 10 individuals working for the SVR, Moscow's version of the CIA, including a sultry redhead named Anna Chapman, who became an instant tabloid star. The case inspired the hit FX series The Americans, which follows two Russian "sleeper" spies living deep undercover in 1980s Washington.
When foreign diplomats come to the U.S. for the first time, the FBI routinely scouts their profiles to identify potential intelligence plants. If agents spot something suspicious, they'll concoct a plan to smoke the person out. The FBI's alarms were tripped in November 2010 by the arrival in New York of Igor Sporyshev, supposedly a trade representative of the Russian Federation. One red flag was that his father, Mikhail, had been a KGB officer and a major general in its successor agency, the Federal Security Service (FSB).
In 2011, Sporyshev attended a run-of-the-mill energy conference in New York—as did an FBI agent, posing as a Wall Street analyst. The Russian introduced himself, chatted amicably, exchanged business cards, and later followed up. "The Russians are incredibly good at what they do," Ricci says. "They're wary of all English speakers. What's much easier, to get them to trust you, is if they approach you."
In subsequent conversations, Sporyshev pushed the supposed analyst for information about the energy industry, such as company financial projections and strategy documents. The information wasn't secret or even especially sensitive. It didn't give Sporyshev an edge he could use to commit insider trading. Rather, asking for information like this reflected a Russian approach to intelligence that's endured long after the Cold War.
Coming from a traditionally closed society where the media operates as an extension of the state, Russian agents tend to prioritize human recruitment and generally discount the huge amount of "open source" news and information that flows routinely out of the U.S. in government reports, independent news articles, and think tank analyses. "Whispered conversations always feel sexier," Ricci says. And relationships that start out innocuously, with junior or midlevel workers, can be cultivated over years, until the target is senior and desensitized to sharing information with someone they think of as a longtime friend. . . .  (Read the rest)