FBI in Honolulu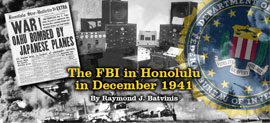 Relive the hour-to-hour experiences of the FBI field office in Honolulu as they respond to the Japanese attack on Pearl Harbor in December 1941.
Read more
FBI in Moscow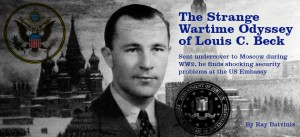 Read a fascinating article by Ray Batvinis about FBI Agent Louis Beck who was sent undercover to the US Embassy in Moscow during WW2 to assess the security situation in the embassy. What he found was shockingly lax security attitudes that allowed the Soviet NKVD control of the place -- and of secret US codes.
Read more
Read Chapter One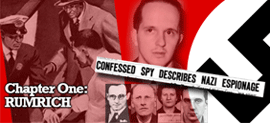 Read the first chapter of
The Origins of FBI Counterintelligence
. This complete chapter tells the story of Nazis spies operating in America, particularly focusing on the case of Guenther Rumrich, his arrest by the FBI, and how the case changed the FBI.
Read the Chapter
Video of Reagan Lecture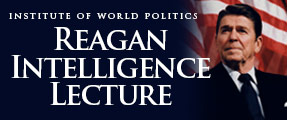 Watch Ray Batvinis talk on "Ronald Reagan: Counterintelligence and the Evil Empire at the Institute of World Politics in Washington, DC in April 2013. Watch Video