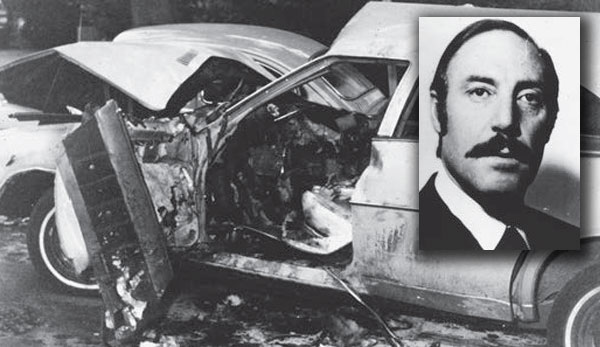 This FBI history article appeared in the August 2016 issues of The Grapevine, published by the Society of Former Special Agents of the FBI. The article was written by L. Carter Cornick, Jr (FBI: 1967-1988).
FBI Grapevine – CHILBOM (.pdf)
Some 40 years ago on September 21, 1976, the first case of international terrorism in the United States literally exploded in the heart of embassy row in Washington, DC on a drizzly Tuesday morning near the end of rush hour.
Former Chilean Ambassador to the United States Orlando Letelier was nearing his office, the Institute for Policy Studies (IPS) with two colleagues, Ronni and Michael Moffitt, when a powerful bomb detonated under the driver's seat of his car, killing both him and Ronni, who was also in the front seat. Ronni's husband, Michael, sitting in the rear of the car, somehow survived with only superficial wounds.
Having arrived from assignment in Puerto Rico only several weeks previously, I responded to the crime scene as part of a newly-formed criminal squad, handling bombing matters. Hearing that the case was assigned to me, two things came immediately to mind as one who had handled these matters before: 1) There may be other secondary devices and 2) Does the FBI even have jurisdiction?
Little did I realize that this case would become my "career" case that followed me to FBIHQ and then into retirement. . . . (Read More)