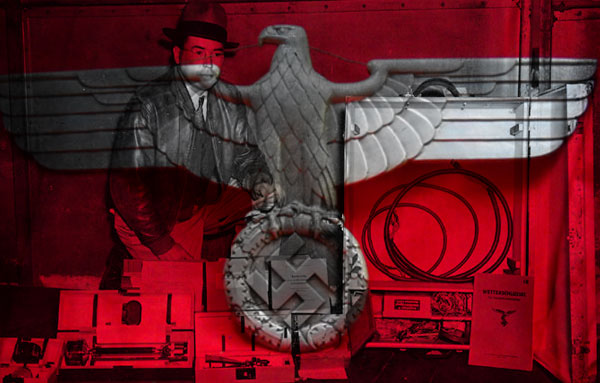 I wrote this FBI history article which appeared in the November 2016 issues of The Grapevine, published by the Society of Former Special Agents of the FBI.  Below the intro are the actual FBI documents from the case.
The Busko Affair
How the FBI found the most advanced radio communications equipment in the Nazi arsenal
I wonder if any Grapevine reader has ever smelled two hundred rotting polar bear-skins? Somehow, I doubt it. But this was the malodorous situation faced by a handful of FBI Agents at the Commonwealth Pier in the port of Boston — just three months before America entered the Second World War.
Our story opens one day in September 1941 along the frigid northeast coast of Greenland. Five months earlier President Franklin Roosevelt had ordered Admiral Harold Stark, the chief of naval operations, to begin "informal" patrols in the arctic waters surrounding the vast and icy island. For 18 months, a constant stream of convoys had been losing the Battle of the Atlantic — the momentous struggle to keep Britain alive in the face of German submarines lurking in the mid-Atlantic well out of range of shore-based defenses. Since the start of the Second World War in September 1939, British merchant ships were being torpedoed at a staggering rate. The cold reality was that the Germans, in the words of one historian, were "sinking more ships than Britain and the United States were building." And losses were accelerating — from 126,000 tons in total shipping losses in January 1941 to 249,000 in April.
The U.S. Coast Guard, which had been subordinated to the Navy, was assigned to the Greenland mission. Starting in the summer of 1941, there were three Coast Guard cutters, the North Star, Bear and Northland, under the command of Captain Edward H. "Iceberg" Smith, who began hunting for German weather ships and land-based weather stations posing as innocent fishing vessels and trapping camps. As part of the assignment, specially selected Coastguardsmen were trained as "Sledge Team" leaders, consisting of a sled driver leading a team of dogs over miles of ice and snow, looking for suspicious activity in harsh Arctic conditions. Germany hungered for weather data. Such information was vital for their naval activities in the eastern Atlantic, air operations over England and, since June 1941, her ground and air forces in Russia. As weather moves west to east, a seriously disadvantaged Germany had little choice but to venture into U.S. and British-controlled arctic waters to collect and report vital information on weather conditions that days later would drift over the British Isles and the European continent.
One day a sledge team spotted what it thought was a strange vessel landing men on the coast. Wasting no time, Smith ordered the Northland, commanded by Captain Carl C. von Paulsen, to put an armed team aboard and search it. The ship was the Busko, a sixty-one-ton freighter, which carried a crew of 17 Norwegian men and one woman. Under questioning, crew members acknowledged putting a party ashore which led Smith to order von Paulsen to place the Busko in the custody of the Northland and start searching for the mysterious camp. Two days later, armed sledge teams surprised the Norwegians without incident and took them into custody. Still suspicious of the ship's unusual array and the conflicting crew accounts, "Iceberg" ordered the Bear to escort the Busko and its crew back to Boston for further investigation. . . . (read the rest)
FBI Case Files
Busko Case FBI Files – 23 October 1941 (pdf)
Busko Case FBI Files – 17 October 1941 (pdf)